Douglass Candies, Inc. is a fourth generation candy company founded in 1919. We are the oldest family owned business in Wildwood! Since our origin, we have been making the highest quality cream fudge, gourmet chocolates, and REAL salt water taffy giving us our slogan "We Make The Candy We Sell". You might recognize us by our signature plaid box and trademark scotty dog. The plaid represents our Scottish/Irish heritage while the scotty dog was simply used because our founder, Charles Douglass, adored his scotty dogs. We pride ourselves on customer service, quality control, family, and tradition.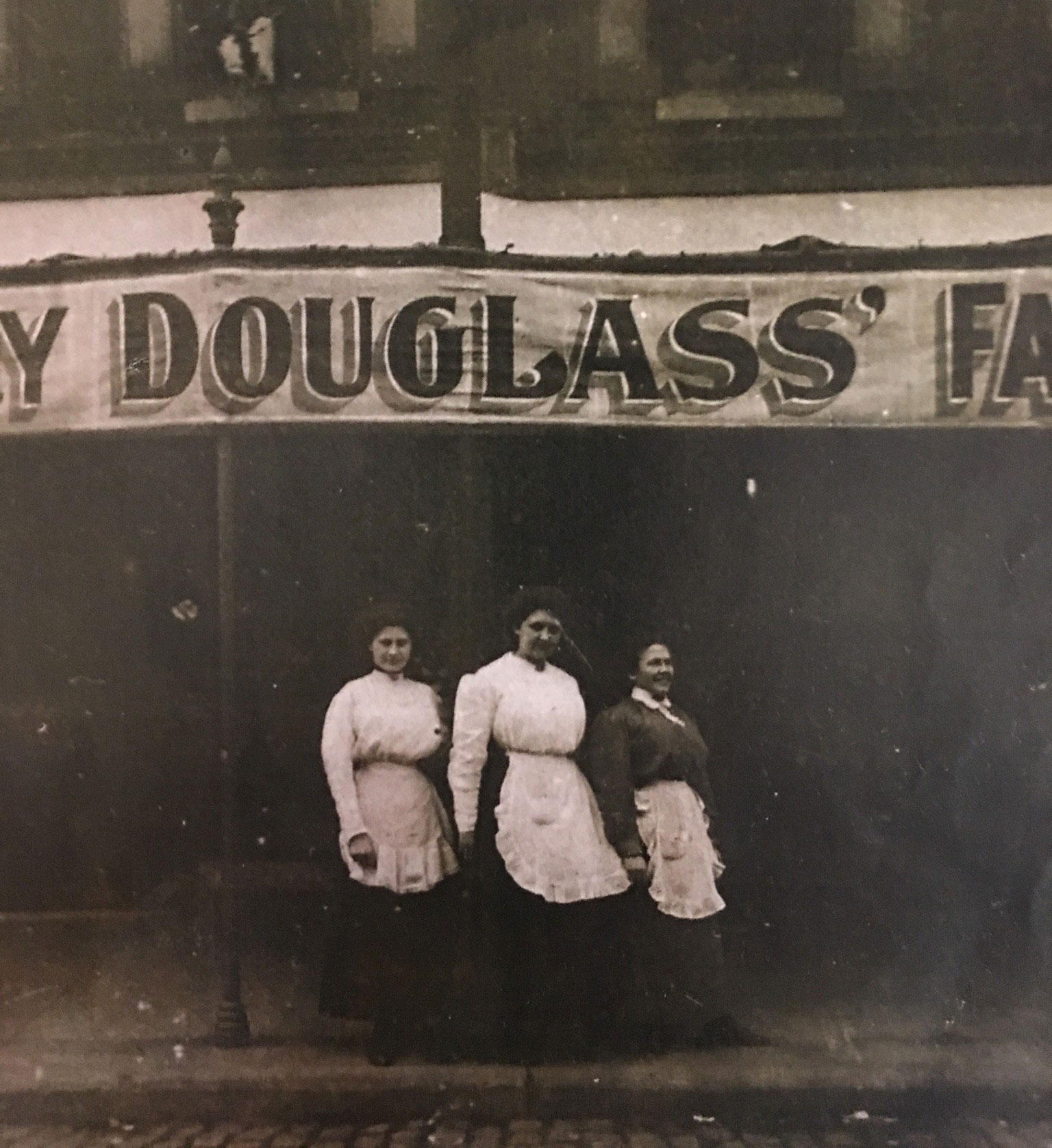 Upon Joseph's death, his beloved wife Minerva took over the business along with their three children; Charles, Harvey, and June. Minerva and June handled administration and the store front while Harvey and Charles took care of the production side of the company. Minerva and her children aided in the continued success to Douglass Candies. They even brought in a famous German chocolatier, Frank Steiner, to help perfect our techniques and recipes. Minerva died in 1969, followed by Charles in 1972. June then bought out Harvey, leaving her the sole owner of Douglass Candies. Harvey passed in 1983. His children, Joe and Charlie, went on to pursue careers in candy on the west coast.
In the late 1970's, as the President of Douglass Candies, June took over all administration work and oversaw all production. Her only child, Barbara aka "Babs", handled the storefront and helped Douglass expand during her time with the business. June worked into her late 70's and passed away in her home in Wildwood Crest is 2003. Barbara ran the entire business herself from 2000-2013, at which time she passed it on to her boys, James and Jason. Barbara passed away in 2014.
James and Jason have continued the family tradition as fourth generation owners and have given the business new life. They are responsible for the addition of new product lines as well as expansion into Stone Harbor. They were incredibly proud to celebrate Douglass' 100th year in business in 2019 and look forward to continuing the Douglass tradition for years to come!
Our founder, Charles Douglass, was an exemplary citizen of the Wildwoods. He was a prominent boardwalk business man, hotel operator, chairman of the Wildwood outing committee, board member of the chamber of commerce, executive committee member of the New Jersey State Hotel Association, and president of the Wildwood Golf Club. Charles founded Douglass Candies in 1919 and opened up his first location at Wildwood Ave and the Boardwalk where we continue to do business nearly 100 years later!
Charles' candy career began in Philadelphia where he owned a store in Rittenhouse Square. In 1905, Charles and wife Flora moved to Wildwood. They opened the Douglass Hotel in 1913 on Atlantic and Pine Avenues, followed by a small candy concession stand on Cedar Ave in 1917. After some success with the candy store, Charles moved his operation to the boardwalk at Wildwood Ave. The building was constructed by recycling an army barracks from Cape May, NJ. During his reign as President of Douglass Candies from 1919-1941, the business gained major popularity and success. It was doing so well, in 1922 Charles built a pavilion across from his business for customers to get out of the sun/rain and enjoy a nice place to relax. Recipes and techniques created over the course of these years are the basis of our recipes that we still use today.
Charles passed away peacefully in his home at the age of 77. Following his death, Charles' brother Joseph took over the business. Joseph Douglass also began his business career in Philadelphia. He lived in the famous Lemon Hill Mansion in Fairmont Park where he ran a candy/ice cream shop. After seeing the success of his brother, he moved his family to Wildwood in 1919. Upon arriving, he opened a boarding house and restaurant on Cedar Ave. He later opened the Douglass Cafeteria on Oak and Atlantic Ave. The cafeteria specialized in homemade ice cream. Joseph also owned the Bellevue Hotel and Restaurant in Cape May Court House. Joseph took over Douglass Candies in 1941 and owned it for less than a year before passing in 1942.